The roar of the crowd proved to be too much for one of the bridesmaids, Grace Van Cutsem
Kate here seems to be trying to comfort her afterwards,
Here she is again, seeming finding something on the floor.
Pippa Middleton with bridesmaids Grace Van Cutsem and Eliza Lopes
Pippa is just as gorgeous as Kate.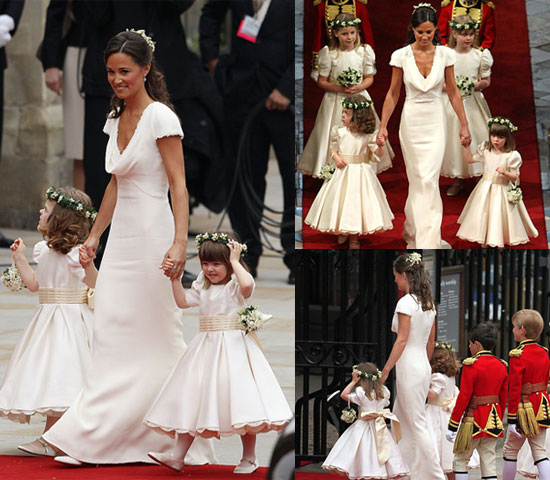 In the US, bridesmaids (and guests) usually stray far away from wearing white at a
wedding
, but the UK follows a different tradition. According to old superstition, bridesmaids are supposed to dress similar to the bride to ward off evil spirits, hence the white dresses. Catherine, Duchess of Cambridge, dressed her sister, Pippa Middleton, in a white
Alexander McQueen
gown along with her accompanying adorable party.
Would you do the same or prefer being the only one wearing white on your special day?
I personally feel I'm too young to think about marriage but I think I wouldn't mind if my bridesmaids wore white, especially if they were so small and cute.